Laser Therapy Treatments
Laser and light-based treatments have become very popular since they provide great benefits with minimal recovery time. Laser and light sources can be used to improve skin color, tone, and texture. Some treatments require a series of sessions, while others are performed in only one session. Most of the latest laser treatments have state of the art cooling built in to prevent discomfort and skin injury.
Below are the laser and light source treatments that are offered at Santa Monica Dermatology Medical Group:
Intense Pulsed Light (IPL) Photofacial - The IPL is a light-based system designed to fade brown sunspots and facial blood vessels. This system is very effective in treating Rosacea and other signs of sun damage. The recovery time and discomfort are minimal, allowing most patients to return to their normal level of activity after treatment.
Laser Hair Removal - This popular procedure utilizes the IPL technology to eliminate unwanted hair. Anybody area can be treated as long as the hair is not grey or light blond. It requires a series of treatments.
Non-Ablative Fractional Laser Treatments - Fractional lasers have revolutionized the field of laser surgery in the past few years due to their ability to resurface skin and create tightening with a short recovery time. This procedure creates many tiny "wells" through the top layers of skin, causing contraction of existing collagen and formation of new collagen in deeper layers.
Non-ablative fractional resurfacing (the Fraxel 1540) is FDA approved for use in skin resurfacing and may be helpful for acne scarring. This procedure is also FDA approved for use in the correction of pigment changes such as sun spots and melasma. More recently this procedure received FDA approval for improving stretch marks. It does require a series of 3-6 treatments but has only a mild "sunburn-like" recovery."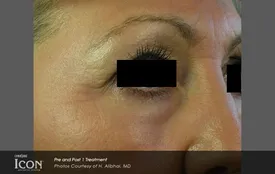 More information about this laser can be found at http://www.almalasers.com
Still have more questions about laser therapy treatments we offer? Call Santa Monica Dermatology Group in Santa Monica, CA at (310) 829-4484 to be connected with a specialist